Helestra LED Deckenleuchte Liv 15/20cm
Helestra's ceiling lamps are simple in design and show a modern industrial style. Ceiling lights are versatile and can be used in any room. It can glow above the dining table or illuminate the hallway area. At the same time, it enables targeted lighting. Available in two size options.
Helestra LED Deckenleuchte Liv 15/20cm
Hellestra LED Refined Modern Lighting
Helestra LED Deckenleuchte Liv 15/20cm is a sophisticated and a pioneer of future lighting. With the transparent shape, the light fixture resembles a spherical white well.
Designers use the simplest elements to create extraordinary lamp shapes. Using a simple spherical shape, this overall shape is regular and easy to match.
Product process
The ceiling light is made of high quality metal and acrylic material with a matte white finish.
The Helestra LED Deckenleuchte Liv 15/20cm is available in two sizes and can be hung individually or in combination.
Wide application space
Ideal for dining room, study, bedroom. When suspended above the ceiling, it emits a warm and comfortable light, another unique sight.
As a functional light fixture, it will add brilliance to your dining table and is sure to impress your guests and give you a great experience.
Please note: Your payment does not include customs duties, local taxes or any other import costs.
If you have any questions about our products, please contact us and we will get back to you within 24 hours.
Helestra LED Deckenleuchte Liv 15/20cm Size
Dia15cm×H9.5cm/Dia5,9×H3,7"
Dia20cm×H11cm/ Dia7,9×H4,3"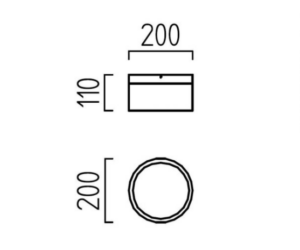 Helestra LED Deckenleuchte Liv 15/20cm Details
Data sheet
size
Dia15cm×H9 5cm
Dia20cm×H11cm
color temperature
warm white(2900/3000K)