LUXUS Contemporary Chandelier Lamp
As a classic molecular light, LUXUS Contemporary Chandelier features gorgeous glass lampshades and rotatable rods which allow various look. It will definitely shine your living and dinning room. Made of metal and glass. Available in five sizes and various finishes.
LUXUS Contemporary Chandelier Lamp
Classic molecular design reveals the art of elegance
LUXUS Contemporary ceiling light is a classic molecular light which has creative glass lampshades, making it chic and elegant like a work of art. No matter whether you prefer luxurious decorations or concise exquisite adornments, this hanging  light must be a good choice for you. 
Unique shape design and colorful color selection
Mainly made of metal and glass, it is composed by several rods and irregular shades in molecular form. The connection between two rods can be rotatable, so this chandelier can vary in many models. With 5 sizes, the metal rod is available in 2 finishes and the glass has 5 colors. 
Can be used as decoration for various occasions
This striking contemporary glass chandelier is perfect for both living room and dinning areas, especially allocating with long table. The linear shape and minimal design make it blend in any modern indoor decoration easily. Besides, it can join in classic and elegant interiors due to its fresh and graceful glass shades. 
Please note: Your payment does not include customs duties, local taxes or any other import costs.
If you have any questions about our products, please contact us and we will get back to you within 24 hours.
LUXUS contemporary ceiling lamp size
3 Heads: L 110 cm x H 18 cm/L 43.3″ x H 7″
5 Heads: L 125 cm x H 18 cm/L 49.2″ x H 7″
6 Heads: L 140 cm x H 18 cm/L 55.1″ x H 7″
7 Heads: L 150 cm x H 18 cm/L 59″ x H 7″
8 Heads: L 180 cm x H 18 cm/L 70.9″ x H 7″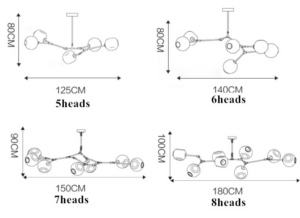 Length of Rod:
20 cm + 40 cm/ 7.9" + 15.7"
(Can be used singly or joined together-please inquires if you require the longer rod.)
Lampshade configuration:
Large: Dia 18 cm/7.1''
Small: Dia 15 cm/5.9''
(If you have request upon lampshade and please contact us.)
Combinations of Lamp Size:
1 Large + 2 Small (for 3 Heads)
2 Large + 3 Small (for 5 Heads)
2 Large + 4 Small (for 6 Heads)
3 Large + 4 Small (for 7 Heads)
4 Large + 4 Small (for 8 Heads)
LUXUS contemporary chandelier light details
Material: Aluminium/ Glass/ Metal
Light source: E 27
Power: Max 40 W
Weight: 3 kg/ 6.6 lbs
Finishes: Gold/ Black
Glass lampshade: Gradient-Blue/ Gradient-Green/ Transparent/ Amber/ Gradient-Smoke Grey
Control method: push button switch (not dimmable)
We provide 150 cm/ 59″ wires which can be extended upon request.
Purchase Notes
If you have problems with customs clearance and shipping damage, please contact us by email. Email address: [email protected]
This order does not include bulbs.
Please notice and understand that color difference and measurement discrepancy are unavoidable.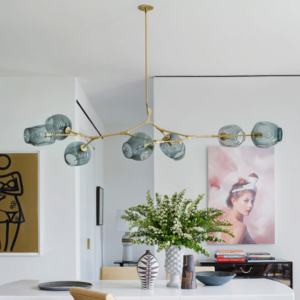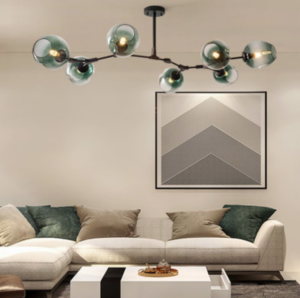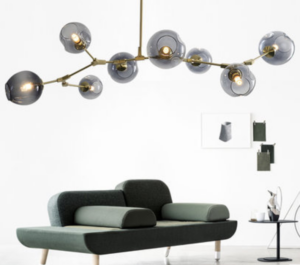 Data sheet
color
Black
Golden
lampshade
Blue
amber
clear glass
green
smoky grey
Number of Bulbs
3Heads
5Heads
6Heads
7Heads
8Heads